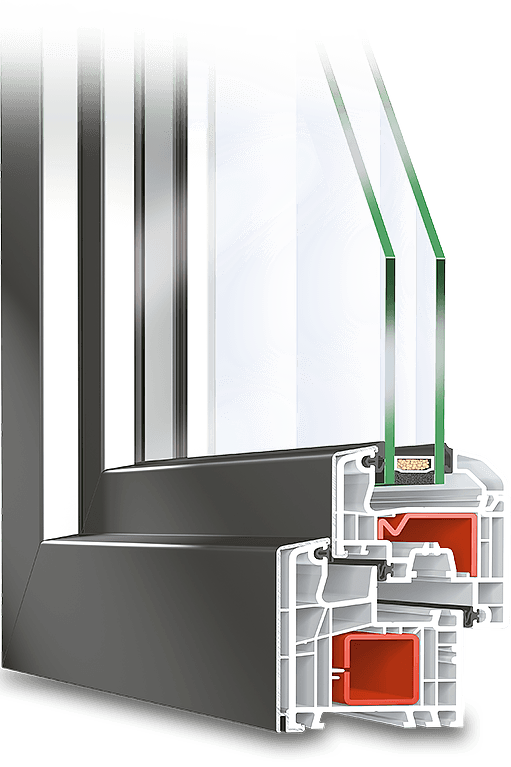 The TwinSet 5000S delivers a great balance of price and performance. With its tough, sleek aluminum exterior and energy efficient vinyl frame, the TwinSet 5000S offers a wide variety of custom color, glazing, noise reduction and security options to choose from. As a good middle ground between plain vinyl and aluminum clad wood, the TwinSet offers premium aesthetics and solid thermal performance at a great price.
0.15

U-factor

6.5

R-value

3

Sealing Levels

5

Internal Chambers

0.87

Metric U-factor
(W/m2K)
Details, Structure and Technology
5 chamber design with three sealing levels and 215⁄16 (75 mm) installation depth
6.5 R-value based on your configuration
Glazing thickness configurable between 15⁄16 and 19⁄16 inches (24 and 40 mm)
White interior vinyl frame and aluminum exterior available in all RAL colors
Extremely weather-resistant components, featuring innovative and durable vinyl mixtures.
Can be manufactured in different shapes, angles or arches to suit any facade
Privacy and Ornamental glass options available.
Security measures for energy effective window models include 2 mushroom cams and 2 strike plates
Configurable up to a Resistance Class 2 (RC2) security level
All profiles are free of cadmium, barium and lead
activPilot Select with hidden corner and stay bearing or activPilot Comfort systems with parallel opening mechanism
Top-Notch Energy Efficiency in a Sleek Modern Look
TwinSet 5000S profiles are made of a combination of vinyl and aluminum, offering superb U-values for energy efficiency. In addition, the three sealing levels used in the construction of the profile reduce the effects of thermal bridging.
The seals are integrated into the frame, providing proper insulation of the 5-chamber system and allowing the glazing to be mounted flush with the casement frame. This has the additional benefit of ensuring a weather-proof seal to reliably stop cold air from entering the house.
Excellent thermal insulation is guaranteed thanks to three sealing levels and the 5-chamber profile structure of TwinSet 5000S windows
Finally, the additional aluminum shell provides an additional barrier between the window frame and outside air which further improves the overall Uw-values.
Multipoint Locking for Advanced Security
Security plays a significant role when selecting suitable windows and doors for your home. The hardware and hardware used must meet strict quality and security standards in order to provide adequate protection.
Quality Winkhaus activPilot hardware are used to guarantee basic security, with a range of additional options and upgrades, including Resistance Class II (RC2) protection.
In locations where windows are particularly vulnerable to intrusion attempts, glass too can be reinforced with laminated and impact resistant glazing.
Customize and Individualize your Windows
In order to meet your personal tastes, the outer aluminum cladding of TwinSet 5000S models can be customized in variety of different ways. You can select from an extensive range of RAL colors and finishes to match your facade, or accent it. Additional visual features such as muntins can be easily added meaning your imagination is the limit.