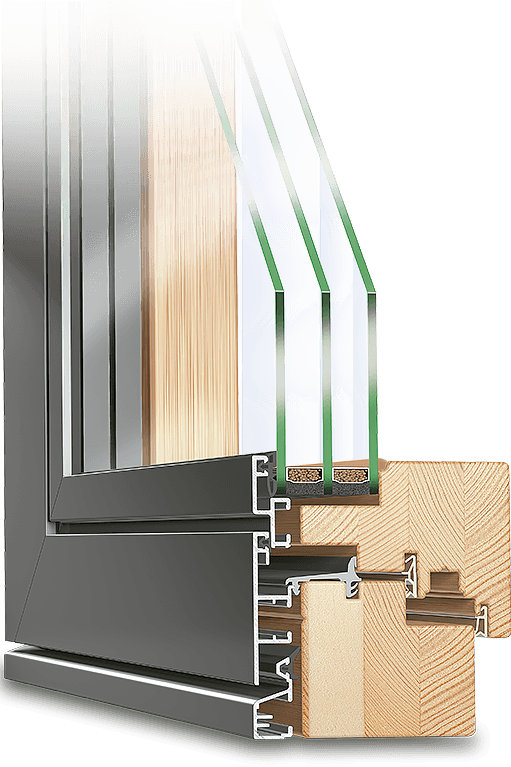 The Eco Plano takes aluminum clad wood windows to the next level. Combining the beauty of wood, the toughness of aluminum and an additional layer of insulating foam, it achieves excellent thermal performance while giving your home a luxurious look both inside and outside. Together with triple glazing, the Eco Plano can achieve an impressive passive house Uw-factor of 0.14. The frame is thermally separated using a special polyurethane insulating wedge that ensures the aluminum does not come into contact with the wood. This ensures vapor diffusion and excellent insulation. The Eco Plano's sleek angular look makes it ideal for modern architectural projects and perfect for passive house builds. Customize it further with dozens of colors and special glazing options.
0.14

U-factor

7.3

R-value

3 13⁄16"

Frame Depth

3

Sealing Levels

0.78

Metric U-factor
(W/m²K)
Details & Overview
7.3 R-value or U-factor of 0.14 (metric: 0.78 W/m²K) based on configuration
Flush external frame design with gas-filled triple glazing in thicknesses up to 23⁄16 inch (55 mm)
Extrusion-formed foam insulation within the wood laminate provides U-values suitable for ultra-low energy passive house design
Muntins and special glazing (sound protection, safety glass, patterned and privacy glass) to suit any design requirement
Profiles can be manufactured in an array of arches, angles and shapes to suit any building project
Available in pine, spruce, larch, alder, oak, eucalyptus, cherry, walnut and more
A wide range of paints and varnishes for the interior and exterior
Glued wood edge bands with a continuous laminated top layer
Three sealing levels
Welded corners, edge pins with double slots, cams and v joints.
Multipoint locking and fail-safe position locking handles provide safety and security.
10 year guarantee on aluminum cladding and 5 year guarantee on wooden surfaces
ECO Plano Advantages
Glazing
Triple glazing can be combined with solar control, soundproof, obscure and safety glass.
Low-E coatings increase thermal efficiency while reducing damaging UV light
Surface finish
Numerous RAL colors and finishes to match any project
Optional clear surface finish is available for interior wood side
Technical Details
Thermal insulation according per DIN 4108 and EnEV
Soundproofing per VDI 2719 SSK, SSK II to V
Anti-burgar proof according to DIN V ENV 1627-1630 to resistance class 2
10 Year Guarantee
The excellent quality of our aluminum clad wood windows means that we offer a 10 year guarantee on the exterior aluminum shell and 5 year guarantee on the wooden surfaces.
RAL Seal of Approval
RAL is more than a color scheme, but a German quality control and testing institute. All of our aluminum cladding is all RAL approved, which involves continued quality monitoring and regular checks by an independent third party.
Construction Details
All corners are welded, ensuring they do not warm under strain. It gives them an attractive look while being water tight at the same time. Aluminum is durable and weather resistant and can be supplied in virtually any RAL color.
High Quality Hydro-planed Surfaces and Dual Colors
This new and innovative method of machine planing ensures that the wooden surfaces are especially smooth and accurate. The glued laminated design with an integral foam core creates a strong, stable profile to resist distortion.
The resulting open pores are able to be sealed during the initial coating process to protect the wood. The aesthetic and insulation advantages give a quality and performance that makes an excellent long term investment.