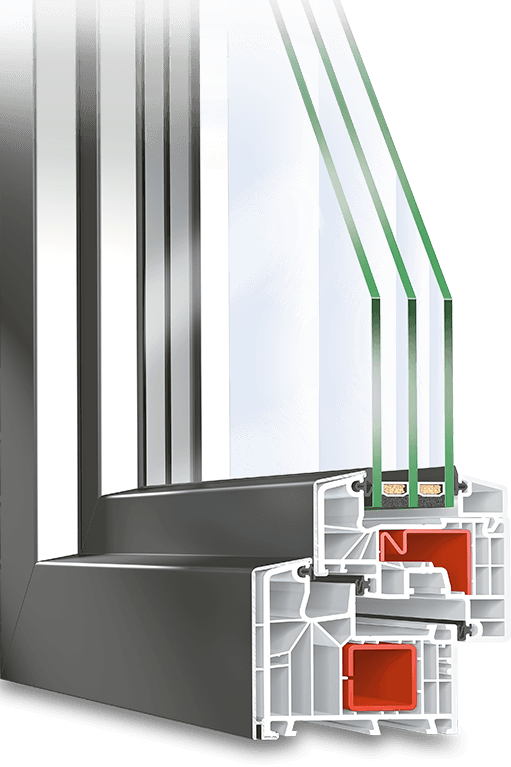 The TwinSet 8000s offers some of the best insulation values today in an attractive and modern look. The combination of aluminum cladding, advanced vinyl frame and fine German hardware make it a high performance window that will enhance your house and save money for years to come. Its 6 internal chambers, multiple sealing levels and aluminum cladding offer Uw-values that can meet Passive House standards. While lowering your monthly bills, it will also keep you safe with its tough metal exterior and German security hardware with a range of further security upgrades possible. Aluclad vinyl offers all the advantages of each material with none of the drawbacks.
0.14

U-factor

7.1

R-value

3

Sealing Levels

6

Internal Chambers

0.80

Metric U-factor
(W/m2K)
IDEAL TwinSet8000S Overview and Details:
Aluminum clad vinyl (uPVC) frame
R-value of 7.1 and Passive House Uw-values of 0.80 W/m²K based on configuration
6 internal chambers in the frame for superior insulation
31⁄4 inch (82 mm) frame width
39⁄16 inch (90 mm) construction depth for larger insulation chambers
3-point sealing – available in papyrus white or black with colored finishes
Up to 2 inch (51 mm) glazing thickness possible
Weighted Sound Reduction Index (Rw) of < 44 dB
European style Tilt & Turn opening style with multipoint locking and fail-safe position locking handles 
Available in a wide range of RAL colors including dual color option for interior and exterior
activPilot hardware and security features with 2 mushroom cams and additional strike plates
Innovative weather resistant vinyl material formula
Weather resistant extruded sealing
Environmentally friendly - 100% free of cadmium, barium and lead 
Optional:
Improved security up to and including resistance class two (RC2)
ActivPilot Select hardware with discrete concealed hinges
ActivPilot Comfort with parallel opening for ventilation
Magnetic contact sensors for electronic lock monitoring
Passive House Level Energy Efficiency in a Modern Look
TwinSet 8000S profiles are made of a combination of vinyl and aluminum, offering superior U-values for energy efficiency. In addition, the three sealing levels used in the construction of the profile reduce the effects of thermal bridges.
All seals are integrated into the frame, providing proper insulation of the 6-chamber system and allowing the glazing to be mounted flush with the casement frame. This has the additional benefit of ensuring a weather-proof seal to reliably stop cold air from entering the house. These ensure that the frame itself provides excellent insulation and not just the glazing. The best triple glazing can't work miracles if the frame surrounding it is much less efficient.
Excellent thermal insulation is guaranteed thanks to three sealing levels and the 6 chamber frame
Finally, the outer aluminum shell provides an additional barrier between the frame and outside air which further boosts the Uw-values, leading to thermal performance levels that can meet Passive House standards.
Security with Multipoint locking
Security plays a significant role when selecting suitable windows and doors for your home. The hardware components used must meet strict quality and security standards in order to provide adequate protection. Premium Winkhaus activPilot hardware is used to guarantee basic security, with a range of additional options and upgrades, including Resistance Class II (RC2) protection.
In locations where windows are particularly vulnerable to intrusion attempts, laminated security glass and impact resistant glazing are a good investment.
Customize and Individualize your Windows
In order to meet your personal requirements and tastes, the TwinSet 8000S models allow aluminum cladding can be customized in variety of different ways. You can select from an extensive range of RAL colors and finishes to match your facade, or accent it. Additional visual features such as muntins can be easily integrated making your imagination the only limit.