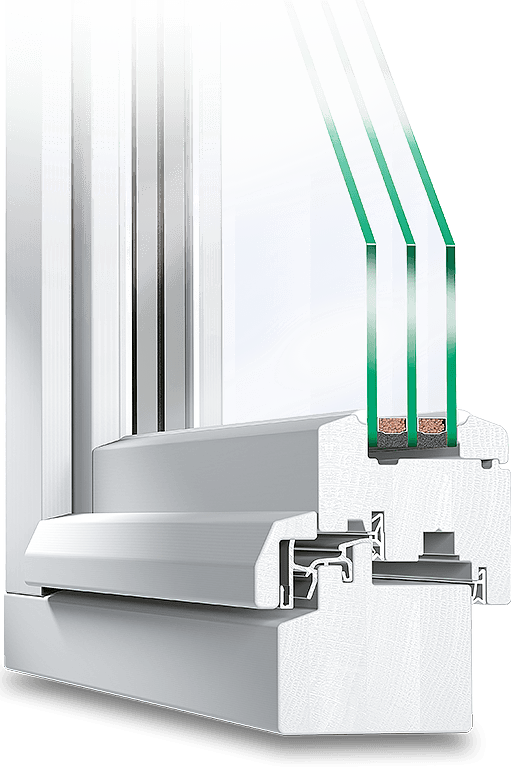 Neuffer's line of historical windows are all custom designed and built to your specifications to carefully replicate the exact look and feel of your home. Built with the same modern technology and well known German craftsmanship as our other profiles, our traditional windows will faithfully match the older look of your home or building while offering all the advantages of today. With your exact requirements, we can custom build the same narrow sightlines, arches, segmental arch windows and so forth that are nearly indistinguishable from the originals. With your choice of our range of woods, we will ensure your replacement windows feature the same trim, capitals, muntins and mullions making them the ideal choice for upgrading your home's facade, improving energy performance and meeting historic preservation regulations.
0.20

U-factor

4.9

R-value

2

Frame Depth Options

3

Sealing Levels

1.16

Metric U-factor
(W/m²K)
Profile Details
The classic beauty of wood with concealed aluminum water-drainage channels
Modern insulating glazing and a long-lasting elastic sealing compound.
Smooth operation with precision German-made Winkhaus hardware including steel strike plates, tilt and turn option, and fail-safe handle locking in both tilted and opened positions.
Available in your choice of 211⁄16 or 31⁄16 inches (68 or 78 mm) installation depths.
Triple weather seals available in brown, white, beige and gray to match your home
Multipoint locking available in a range of security levels to prevent against burglary.
Custom features – transom molding, weather bars, profiled window sills, and more. Recreate the exact historic look your project requires.
They Don't Make Windows Like They Used to - Now They're Better.
While many products suffer in quality and craftsmanship from modern mass production, our custom crated historic windows deliver the same workmanship and style as the past upgraded with modern technology.
Double and triple glazing and precision cut wood frames are just some of the ways in which our windows go beyond the style and value of traditional ones.
Let us craft a custom window in the shape, size and wood your project demands with decorative molding, wood muntins and more. Capitals or rebate ledges on the frame or mullion can maintain a classic look while large water bars lower the risk of water damage.
Need something not mentioned? Contact us. We can work closely with you, using your individual requirements and photos to build exactly the window you need.
Preserve Your Home's History While Saving Energy
Windows made of wood offer excellent natural insulation and with the modern glazing options, can even be one of the best choices of material for doors and windows. These historic style windows can significantly reduce energy use in old houses and reach Uw-values down to 0.20.
Preserving and Protecting Historical Homes
Traditional Windows feature an excellent combination of natural materials and modern technologies. Older houses are better protected from weather, air infiltration, and energy loss while maintaining the same look.
With nearly a century and a half of window expertise, we offer windows with the quality and craftsmanship you'd expect from German luxury cars and engineering products. With your choice of woods such as oak, meranti, larch, spruce and more, we'll custom build the exact shape, size and look your home deserves.