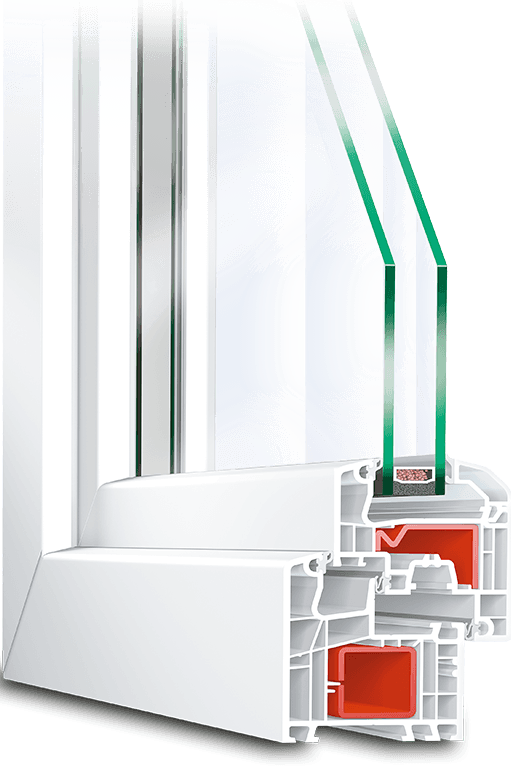 Our Ideal 5000S profiles combine energy efficiency and affordability with the flexibility of extensive customization to offer homeowners an excellent price-performance ratio. Available in multiple depths to accommodate renovation projects or new builds and a variety of double and triple glazing options, the 5000S provides a solid range of features across the board. The multi-chamber, steel reinforced profile offers excellent burglary protection and sound absorption properties. A huge range of colors and decor possibilities allow the windows to be individually tailored to match your specific project.
0.15

U-factor

6.5

R-value

2

Frame Depth Options

3

Sealing Levels

0.87

Metric U-factor
(W/m²K)
IDEAL 5000S – Details
Frames available in 23⁄4 or 31⁄8 inches (70 or 80 mm) installation depths
Triple seals for reliable weather protection
6.5 R-value achievable with triple glazing and warm edge spacer (based on configuration)
Double and triple glazing available in thicknesses up to 15⁄8 inch (41 mm)
Noise absorption up to 45 dB
Available in a range of interior and exterior colors (31⁄8 inch / 80 mm frame only)
Modern treated vinyl provides durability and resistance to discoloration
Quality Winkhaus hardware with a range of security options
European style Tilt & Turn opening system
Profiles can be manufactured in an array shapes incl. arches, angles, ovals and more.
All materials are up to 98.2% recyclable and are lead, barium and cadmium free
Optional Extras:
Hidden drainage channels
Improved security up to Resistance Class 2 (RC2)
ActivPilot Select hardware with concealed hinges
ActivPilot comfort with parallel opening for ventilation
Magnetic contact sensors for electronic lock monitoring
The Ideal 5000S System - Affordable Insulation and Security
Effective insulation needs reliable sealing – inside and outside. In order to achieve this, Ideal 5000S window frames feature a center seal with two hollow chambers, the outer chamber being separated from the inner one.
Modern manufacturing techniques and glazing technology enable the 5000S profile to achieve great thermal efficiency. Uw-values to 0.15 can be reached with triple glazing and a warm edge spacer.
Great thermal insulation with double and triple-glazed options providing high thermal efficiency.
Keep the Noise Out - Soundproofing with the IDEAL 5000S
Noise pollution is an unfortunate fact of life with ever increasing urbanization. Windows provide an often overlooked opportunity to remedy this. The multi-chamber design, with triple seals and insulating glazing, provides a sound reduction of up to 45dB (RW). Noise pollution in a village is typically 60dB, whereas in cities it can reach 70dB. Choosing the right windows will ensure a peaceful living environment and sleeping conditions. For this reason, we offer multiple levels of sound reducing glazing.
Modern hinges offer the best burglary protection
Standard Ideal 5000S models are equipped with activPilot hinges, ensuring proper security. Several additional features can be further selected to achieve, for example, resistance class two (RC2) levels, even when tilted open. Special strike plates and multi-point locking further improve burglary protection including drilling attempts.
Individual designs to suit any project
Vinyl windows are typically delivered in standard white, however a variety of additional designs and colors allow for personalization. Whether you prefer a traditional wooden decor or a modern aluminum like feel, we offer a large range of available RAL colors to ensure you find the exact look you want.