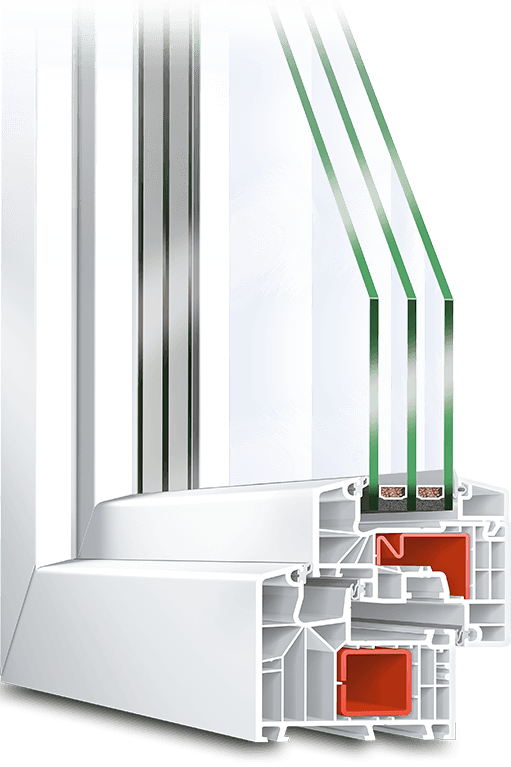 Our Ideal 8000S profiles combine energy efficiency and affordability with the flexibility of extensive customization to offer homeowners an excellent price-performance ratio. The 8000S comes in a larger 33⁄8 inch (85 mm) depth compared to the 5000S making it well suited to new construction. With the ability to achieve Uw-values of 0.14 with triple glazing and warm edge spacers, the 8000S can achieve near passive house values saving you money every month and quickly paying for itself. Best of all, this premium performance does not come at a premium price! Additional glazing and hardware features for increased security, soundproofing, privacy and more are available meaning the window can be tailored to your exact size, shape, functional and aesthetic requirements.
0.14

U-factor

7

R-value

6

Internal Chambers

3

Sealing Levels

0.81

Metric U-factor
(W/m²K)
Technical Details
33⁄8 inch (85 mm) installation depth with multiple chambers
R-value of 7 possible based on configuration
Double and Triple glazing available in thicknesses from 15⁄16 to 2 inches (24 to 51 mm) and semi-recessed up to 25⁄16 (59 mm)
3-point sealing – available in papyrus white or black with colored finishes
European style Tilt & Turn opening
Sound absorption up to 44dB
Quality Winkhaus activPilot hardware with a range of security options incl. standard multipoint locking
An array of arches, angles, and shapes are possible – even porthole windows
Frame up to 98.2% recyclable and 100% free of lead, barium, and cadmium
Available in all RAL colors and many decors for both the interior and exterior
Modern treated vinyl provides durability and resistance to discoloration.
Optional features:
Hidden drainage channels
Improved security up to and including resistance class two (RC2)
ActivPilot Select hardware with discrete concealed hinges
ActivPilot Comfort with parallel opening for ventilation
Magnetic contact sensors for electronic lock monitoring
The Energy Saving System – The Ideal 8000S
The Ideal 8000S provides a great base for custom energy efficient windows for those who don't quite need Passive House levels of performance. It's thicker profile depth, six internal chambers in the frame and three seals ensure great Uf-values (the U-value of the frame itself without glass) to build on with double or triple glazing. The added depth also allows for a greater choice of glazing options in terms of the spacing between individual panes. Triple glazing can be installed up to 59 mm thick overall.
The benefits are reflected in the U-values of the Ideal 8000S. With triple 0.6g glazing and warm edge spacers, these can reach up to 0.14, almost Passive House levels!
Multi-chambers, three seals and a thicker frame guarantee excellent thermal insulation values
Insulate against Sound too
But the 8000S does more than just insulate against heat loss. Many of the same features that prevent heat from cold air infiltration also reduce the energy of external sound waves, i.e. reducing the amount of noise outside that you hear inside.
Sound reduction of up to 44dB (RW) is possible when combined with modern triple glazing. The general recommendation for urban areas is to aim for a sound protection level of at least 20 – 25 decibels at night and 30 – 35 decibels during the daytime.
Glazing bars add a traditional touch to the design of any window. The Helima bar, for example, is a powder-coated aluminum bar which is installed in the interior space between the glass panes.
Freedom of Design
Your Ideal 8000S window can be easily customized to match your needs. The design options are practically limitless. The available design range covers traditional wood looks and modern aluminum shades in almost any color. Use our color charts to get an overview of the range of options available. Moreover, the frames can be built into both standard and non-standard shapes including triangles, ovals, arches and more.