Aluminum clad wood doors combine the advantages of two excellent materials into a piece of exquisite craftsmanship you would expect from high-end furniture or engineering products. With the natural insulation of solid wood and resilience of aluminum, aluclad wood offers homeowners excellent energy efficiency and security in a gorgeous bespoke package that requires little upkeep. Its clean, modern look on the exterior and authentic wood ambiance on the inside means both your interior and facade will get benefit from a luxurious upgrade.
Aluminum Clad Wood Entry Door Models
---
Colors for Aluminum Clad Wood Front Doors

RAL 1002 matte
RAL 1013 matte

RAL 3003 matte

RAL 5014 fine textured

RAL 7035 matte

RAL 3004 fine textured
The Advantages of Aluminum Clad Wood Frames
Anyone building or renovating a home is familiar with the difficult decisions and trade offs involved and the choice of window and door materials. Vinyl is the most affordable and aluminum is the toughest while both require little maintenance. Wood offers unparalleled beauty but requires regular upkeep that you may prefer to avoid. All three offer good insulation values. Luckily, it doesn't have to be an either-or decision. 
Aluclad wood entrance doors are the perfect solution. They combine wooden frames on the inside with an external metal shell to achieve the benefits of both with none of the disadvantages. They offer
Unmatched elegance in a modern look
Superior thermal performance
Strong weather resistance with minimal upkeep
Long life, durability security
Neuffer's aluminum clad front doors are completely made in Germany and feature a range of security options ensuring that each one meets our high standards for quality control as well as your individual requirements.
Clad wood entry doors are more than just the sum of two materials. Their production also relies on a wealth of experience and countless scientific studies, which have led to a great level of technical refinement in the production process. For example, mounting metal cladding directly onto the frame would create problems with vapor diffusion. Therefore, the metal shell never directly contacts the wooden body. The aluminum profile itself is anodized, powder coated and treated with lightfast lacquers to guarantee its longevity even during extreme weather.
Custom Made is our Standard
Neuffer offers a range of custom options to ensure that we can craft a bespoke solution for your project. This begins with your choice of frame material and continues to style, glazing, finish, colors and hardware.
High-Performance Profiles Guarantee Durability
The anodized and powder-coated outer metal surfaces of aluminum clad wood frames are highly resistant to all ordinary weather conditions. The metal shell has been designed with effective rainwater drainage in mind, ensuring that water stays clear of the wood.
Dust and dirt on the outside can easily be removed with a wet cloth. Neither the aluminum nor the glass require regular upkeep or cleaning. Thus, aluclad wood doors maintain their proper appearance for a very long period of time, constituting some of the most durable frame types, and meaning little work for the homeowner.
Product Catalogs Aluclad Wood Entry Doors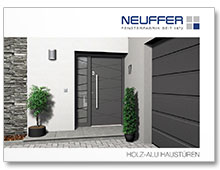 NEUFFER Aluclad Wood Front Doors
Natural charm and optimal well-being
View catalog
Colors & Finishes
All of our front doors are available in a wide range of RAL colors and the aluminum cladding means even more options. Both the cladding a well as the interior facing wood can be customized separately. This includes paint colors, natural stains and wood finishes.
Available species include pine, oak, larch, meranti, walnut, cherry and many more. Special decorative foils can also be chosen in woodgrain if you'd still prefer the door to have a uniform look on both sides.
In addition to standard shaped doors, we can also design custom shaped doors as well as sidelights, transom windows and more.
Whether you are replacing doors, creating an addition or building a new home, our huge selection of options can be transformed into a premium bespoke door to match your project. Please contact us for further information and a free quote for your project.
Glazing and Insulation
Choosing a front door with glazed surfaces provides more natural light and better views. However, even with a smaller glass size compared to alu-clad windows, the choice of glazing is still important in terms of both security and energy efficiency.
Triple glazing with low U
g
-values combined with non-conductive warm edge spacers represent the best combination for thermal performance. Additionally, the gaps between each pane can be filled with argon, a noble gas which is less conductive than normal air.
Hardware & Fittings
Aside from longevity, one of the main advantages of aluminum clad wood is security. Our doors offer multi-point locking and can be upgraded to Resistance Class II (RC2) if desired. Moreover, they offer the latest technological advances including remote entry and fingerprint technology.
From multi-point locking to keycard entry and fingerprint scanning – the security options are endless.
Laminated safety glass should be installed on the outermost pane at least in order to provide an added layer of security and make breaking the glass difficult. All of these options and more are available and can be configured individually for you. With the range of security features our doors feature, burglars will be looking elsewhere.