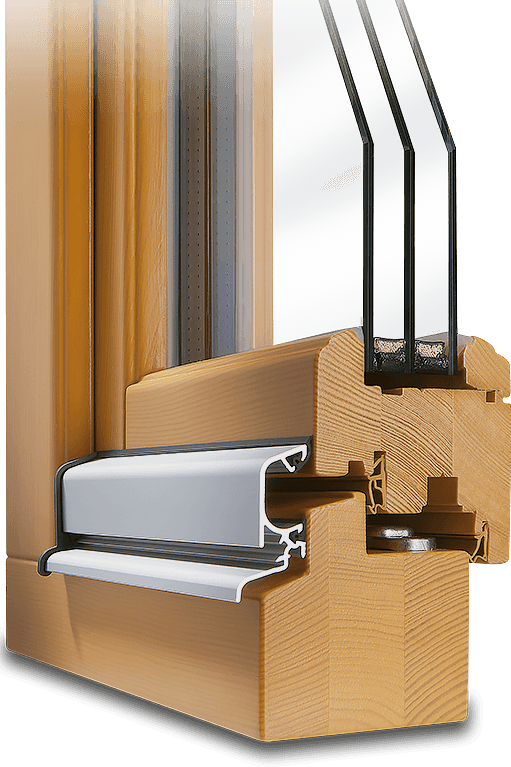 Trusted since the people first began building, wood offers timeless elegance and character. Despite advances in materials, architecture and technology, wood connects us with nature and offers a coziness and beauty vinyl, metal and concrete can only dream of. Our Rustic series combines traditional style with modern fenestration technology, precision German craftsmanship and excellent insulation properties. With the best of both the past and present, these windows can be customized to match your existing home or add warmth and liveability to your new one.
0.15

U-factor

6.8

R-value

2

Frame Depth Options

3

Sealing Levels

0.84

Metric U-factor
(W/m²K)
Rustic Profile Details and Advantages
Available in your choice of 211⁄16 or 31⁄16 inches (68 or 78 mm) frame depths
More Security: multipoint locking and fail-safe position locking handles provide added security
Modern double and triple glazing available up to 15⁄8 inch (42 mm) thick
Precision German-made Winkhaus hardware with a 285 pound load capacity, tilt and turn function, and optional concealed hinge design
Aluminum water drainage channel for robust weather protection with an overlapping core cover – available in a range of colors and natural finishes
Triple weather seals in your choice of brown, white, beige and gray
Glued laminated wooden profiles increase strength and dimensional stability. Available in a range of species including larch, meranti, spruce, oak and many more
Premium Woods, German Craftsmanship and Excellent Insulation
Using the same modern construction methods, attention to detail and engineering know-how that distinguishes other German products, our Rustic profiles achieve insulation values that easily compete with vinyl. For the next level up, configure them with triple glazing and warm edge spacers to reach near passive house values of 0.15.
The natural insulation ability of timber does not require multiple chambers or adding foam. Enjoy a traditional look without sacrificing performance.
A Modern Upgrade for your Historic Home with the Same Period Look
Enjoying your historic home or older wood house doesn't mean having to pay high energy bills or settle for mismatched modern windows. Visually integrating today's vinyl, fibegerlass or aluminum windows is difficult, and often prevented under historic preservation rules. When renovating your home, you don't need to choose between modern fenestration technology or inefficient period windows. Choose Rustic. Our carefully crafted profiles excel in new and old buildings alike.
RUSTIC systems, however, combine advanced profile construction techniques and insulating glass with natural wood, guaranteeing the potential for enormous energy savings when integrated into older houses in particular.
Excellent premium profiles for new and old buildings alike.
Special Visual Accents for New Houses
Even if you are not lucky enough to live in an old Victorian or wood and brick home for example, you can still easily achieve a similarly historic or rustic look. Exterior wood elements on your facade create a more natural, traditional feeling and are welcome change in urban areas. Complete the picture with wooden muntins and a natural finish. Ask about our Rustic series today.