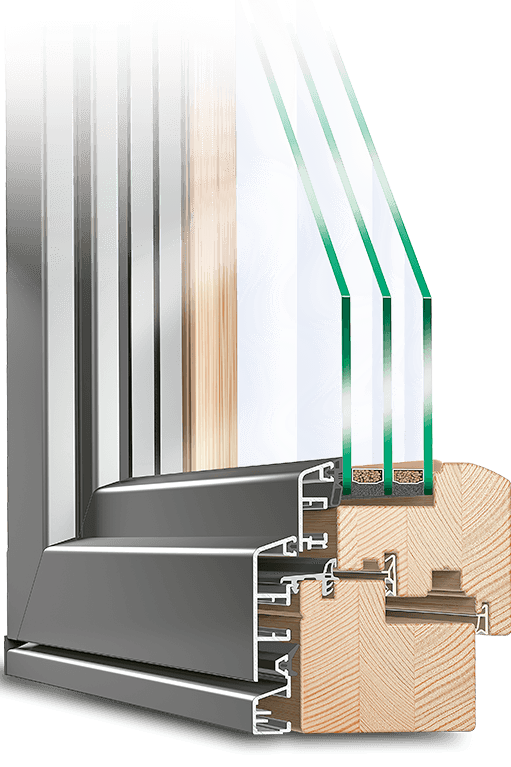 Available in two different profile styles, Idealu aluminum clad wood windows provide all the advantages of both materials offering tough weather-resistant aluminum on the exterior and warm, elegant wood on the interior. Idealu profiles come with a range of customization options and can reach near passive house Uw-values of 0.15. With their classic recessed design, the Idealu is a great way to enhance your home on both the outside and inside.
0.15

U-factor

6.8

R-value

2

Frame Depth Options

3

Sealing Levels

0.84

Metric U-factor
(W/m²K)
Details and Advantages
Available in pine, spruce, larch, alder, oak, eucalyptus, cherry, walnut and more
A wide range of paints and varnishes for the interior and exterior available, including different colors on each
Double or triple glazing
R-value of 6.8 and Uw-values of down to 0.15 (0.84 W/m²K) based on configuration
Glued wooden edge bands with a continuous laminated top layer
Three sealing levels
10 year guarantee on aluminum cladding and 5 year guarantee on wooden surfaces
Available in installation depths of 37⁄16 or 37⁄8 inches (88 or 98 mm)
Welded corners, edge pins with double slots, cams and v joints
Aluminum Clad Wood - The Best of both Worlds
Due to their innovative structure, Idealu profiles have a dual look. The aluminum cladding creates a modern external appearance, while the wood ensures a traditional interior with a warm atmosphere.
The advanced design isolates the outer aluminum shell from the wood, optimizing the thermal properties of each material. Design options allow corner moldings, wood type, colors and other profile features to be tailored to suit existing design elements. It is even possible to combine different colors; one on the inside and another on the outside.
With an Idealu system a variety of different wood types, colors, and features opens up a wide range of possible designs.
The Advantages of Using Two Materials
The Idealu system combines the best attributes of both materials in one frame – comparable aluminum windows only offer effective insulation with the use of 5 or 6 chamber profiles, whereas wood is naturally a great insulator.
Anodized surfaces create a low maintenance, weather-proof shell over the wooden frame while the entire element benefits from the thermal efficiency of the wood laminate.
Although the Idealu models may be priced slightly higher than comparable single-material profiles, the aesthetic and insulation advantages give a quality and performance that makes an excellent long term investment.