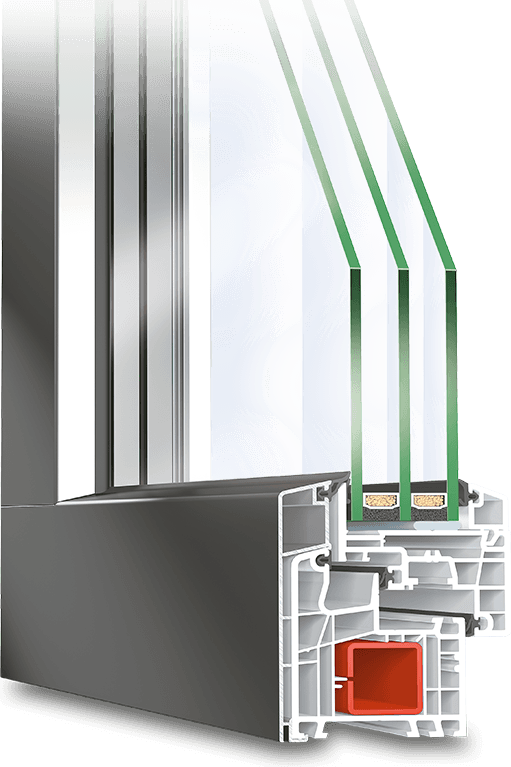 Get more sunlight and better views out of your window with our thin frame Twinset View. It offers a larger glass area, smaller frame, great insulation and solid security at affordable prices. Aluminum vinyl frames combine the advantages of low weight and energy efficient vinyl with robust and weather-proof attributes of metal. Enjoy the TwinSet View system and its high-quality materials, modern design and a large color selection from the RAL scale, available for individual customization.
0.14

U-factor

6.9

R-value

3

Sealing Levels

0.82

Metric U-factor
(W/m2K)
Product Overview
6.9 R-value possible based on configuration (0.82 W/m2K)
Frame width of 41⁄4 inch(109 mm)
Available in heights up to 7.5 feet (2260 mm)
Triple glazing up to 2 inches (50 mm) thick available
Three sealing points for insulation and weather protection
Aluminum shell available in a variety of RAL colors and interior vinyl offers a choice of decorative foil options
Configurable up to a Resistance Class 2 (RC2) security level
Weather resistant aluminum cladding and vinyl frame feature innovative additives and weather-resistant seals
Minimal Design for Maximum Views
The performance of doors and windows depends primarily on the sum of their components. Single material profiles offer their own distinct advantages and disadvantages. Vinyl windows for example, are affordable and achieve impressive insulation values with modern technology. However, although their lighter weight is also an advantage, they cannot guarantee sufficient robustness and burglary protection without additional features.
The Composite Elements of TwinSet View Systems in Detail
Excellent thermal insulation and U-values
Low maintenance requirements
Increased glass surface compared to standard frames
Sleek frame with hidden casement
Concealed Casement Design
The recessed design of the Twinset view profile allows the overall size of the casement and frame to be minimized – offering a larger glass area and thus a better view.
Externally, the design creates a perfectly flush frame which combined with the aluminum cladding gives an elegant exterior. An additional benefit of this layout is the ability to install the frame behind the window aperture. This installation mode is a huge advantage if maximizing the glass area is a priority.
Safety and security
The security performance of your homes doors and windows are important for both peace-of-mind and insurance requirements. Multipoint locking is a standard feature of all Twinset View windows to effectively protect against intruders. The frames and casements are capable of resisting intrusion attempts reliably for a long period of time, increasing a burglar's risk of being detected.
Numerous options are available to further improve security:
Toughened, laminated and impact-resistant glazing
Additional hinges
Lockable handles
External roller shutters
This ensures that the Twinset View is a secure, attractive and energy-efficient solution for your project.