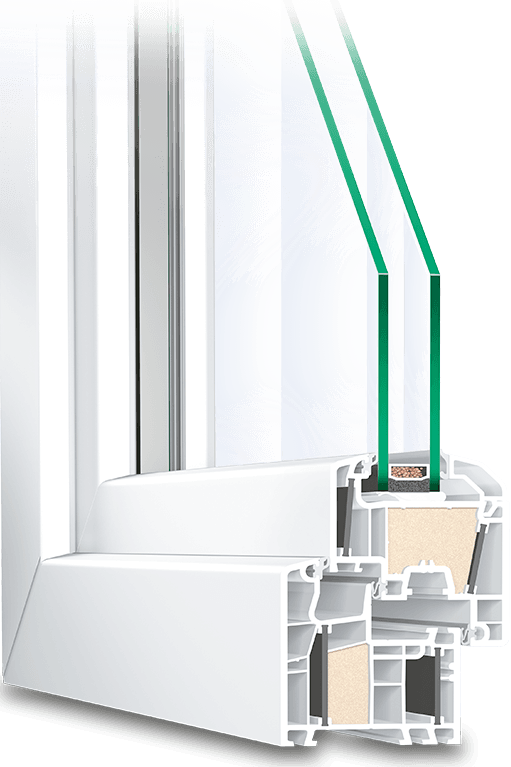 Efficient windows are of special importance nowadays. In times of significant energy spending, the Energeto 5000ED model can help to significantly lower costs and increase efficiency. Advanced thermal insulation does not simply save money on energy bills but also helps meet current and future building regulations. This type of window is suitable for new construction, as well as for renovations. Insulate your home from the cold and rising energy prices.
0.15

U-factor

6.5

R-value

2 3⁄4"

Frame Depth

3

Sealing Levels

0.87

Metric U-factor
(W/m²K)
Energeto 5000ED Details & Advantages
6.5 R-value possible based on configuration
Carbon fiber reinforced insulation to prevent thermal bridging.
High-pressure polyurethane foam insulation.
Insulated glazing is fully bonded into the rebates.
2 3⁄4 (70 mm) installation depth
Triple glazing fitted as standard for optimal U-values
Available in classic white and with decors.
Extremely weather resistant due to modern vinyl material mixtures
3-point sealing with gaskets available in black and white.
Quality German hardware with multi-point locking for burglary protection.
98.2% recyclable profile, lead, cadmium and barium free.
Optional Features:
Hidden drainage elements
Upgrade to resistance class II possible (RC2)
activPilot Select hardware with discrete concealed hinges
activPilot Comfort with parallel opening for ventilation
High Control with sensors to integrate windows with home security
Energeto 5000ED – Innovative Adhesive Technology for Increased Energy Efficiency
In order to ensure ideal thermal insulation, it is important to guarantee that the glazing is sealed within the frame. Energeto models use an adhesive bond to prevent the thermal bridging typical of conventional windows.
The addition of carbon fiber reinforced inserts in the frame eliminate the need for steel inserts that create thermal bridges, and further creates a network of insulating chambers.
Precision high pressure polyurethane foam is then added into these chambers to further boost the frame's overall insulating ability.
Great Security
The Energeto 5000ED offers multipoint locking as a standard feature against burglary. Numerous additional features can further improve this security and help to meet your individual requirements.
Bonded glazing and a thermally insulated core provides efficiency that pays for itself in the long-term.
We offer hardware that can reach resistance class II (RC2), and magnetic contact sensors which sense whether a window is open or closed and can be integrated into your existing home security system.
Individual Design and unique Aesthetics
An array of available RAL colors and decors means there is almost no limitation to your creativity. Colors or decors can be applied both inside and outside to individually design your windows including different options on each side. Frames can be manufactured with angles and shapes to fit any opening. Arched, oval and trapezoid windows are possible for example, and come complete with triple glazing.